Our Family of Farmers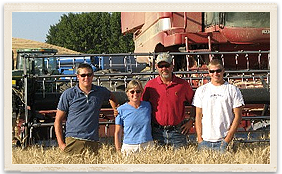 Wayne and Jacia Jensen
in Genesee, ID
Generation
3rd Generation
Future of the farm
I hope our farm continues after I'm gone, but it will only be sucessful if the operator loves to farm.
Farm History
Grandpa was an average size farmer in the early 1900's and used horses to farm for most of his career. My dad started farming after WWII and was able to expand through some opportune land leases and purchases. He is 88 and still likes to drive combine and tractor. He doesn't miss farming with horses at all.
Favorite memory from making the transition
One of my neighbors told me I would go broke when I told him I sold my last plow and would no longer be plowing any of my land 12 years ago. This year he bought a no-till drill like the one I use.