Our Family of Farmers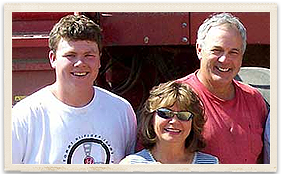 Tim and Heidi Danaher, with Chris and Brian
in Colfax, WA
Generation
4th and 5th generation farmers on home place Farm
Farm History
We assumed operation of the farms in 1979, following the untimely death of my father, leaving the corporate world to manage the acreage of my grandfathers.
Farm Future
As long as any member of our immediate family is involved in the operation of the farms the land will be direct seeded, never left bare and wildlife friendly. This credo has been passed to the 5th generation and we're confident it will continue. We are only stewards of the resources and intend to leave them better than when we assumed responsibility.
What makes Direct Seeding attractive to you?
One of the things that reinforces my belief in direct seeding is the condition of the land following a heavy precipitation event, such as a cloud burst or rapid snow melt. The land acts as a sponge soaking up moisture instead of allowing it to carry the precious soil downhill. Conventionally farmed fields invariably suffer erosion following such events because the soil structure has been destroyed and is incapable of retaining excess moisture.