Our Family of Farmers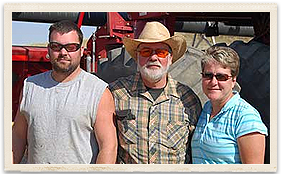 Steve and Becky Camp
in Lacrosse, WA
Generation
I'm fifth generation in this family of farmers
Farm Future
Already in progress. Oldest son Justin and family (Jennifer & Joshua) returned this past fall and will be working into the farming operation.
Why Shepherd's Grain?
A number of years ago I was fortunate to be able to participate in a Kellog foundation/WSU program devoted to holistic management. It brought to the surface a deep seated nagging I had that I just wasn't able to define. The Shepherd's Grain's business plan is very much in line with holistic management practices and is good for all those within their circle of influence. It promotes top of the line stewardship of land use and strives to produce the best product for their customers. All this and still preserving product identity and creating a pricing model that can insure farmers and customers remain viable partners for the future. Can it get better than that?
When did you get into no-till farming?
Started experimenting with direct seeding in the late 1980's and by 1997 started setting aside some acres annually to devote to the program. In 2002 we put the whole ranch in and never looked back.