Our Family of Farmers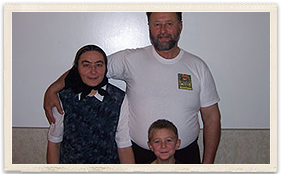 Paul Gross
in Reardan, WA
History
Grandfathers Grosses and Wollman came from the Ukraine to South Dakota in 1874. Mom (Elizabeth Wollman) was born in Huron, South Dakota and Dad (Jacob Gross) was born in Lewiston, Montana. They moved to Southern Alberta in 1917. They were married in 1936 and started a colony farm at Picher Creek, Alberta Canada. In 1960 they moved to Reardan, WA and started the Spokane Hutterian Brethren farm along with Uncle Elias Wollman & Uncle Paul S Gross, their children are presently on the farm.
Farm Future
Giving our children the same opportunity to practice the way of life that our parents taught us.
Favorite quote?
Working together to serve you better.
Why the change to sustainable agriculture?
For us it is a natural, we have been in the farming business for 460 years in Switzerland, Romania, Ukraine, Canada and USA. It is our only source of income and uniquely fits our fommunal lifestyle.
What have you learned since transitioning?
Almost total control of soil erosion, elimination of mud bogs and a marked increase in earth worms.