Our Family of Farmers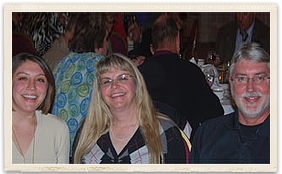 Mike and Tracy Rush
in Harrington, WA
Farm History
The Timm family emigrated from Germany in 1888 and Great Grandpa settled near Davenport. Many children later, my Grandpa Otto moved to Harrington.
Farm Future
I have two daughters, 26 & 21 years old. The youngest would love to farm and is interested in growing crops and the advancing the agri-tourism sector. However, until the trends of Shepherd's Grain and direct seed farming came to our farm, I was unsure of the sustainability of our farming concepts. Low prices, low rainfall, low government enthusiasm for U.S. citizens to raise and consume food seemed like the major trend only a few years ago.
Why Shepherd's Grain?
I realize now, as I talk to people with excitement about Shepherd's Grain, that consumers love local foods and will often be glad to purchase our quality product over something imported thousands of miles. Our producers and our buyers are a committed, hard working bunch that believe in the future of farming and eating!!!! Our farm is devoted to supplying our citizens with the safest food supply possible.
Why No-Till?
The direct seed system has also allowed our farm to start restoring 120 years worth of working the ground, back to a more natural, productive environment. Winter runoff, wind storms and other acts of mother nature are much more manageable with stubble in place. This stubble is also nutrient rich and becomes available naturally to future crops. It also has an advantage to hold more successfully what moisture we do get in dry-land wheat farming.