Our Family of Farmers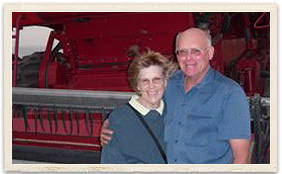 Kurt and Sharon Blume
in Genesee, ID
Farm History
Kurt's Great Grandfather, Jacob Blume purchased the farm in the late 1880's. It was passed down through the generations to Kurt who started farming it in 1981 when his father retired.
What is your direction for the future?
Our farm will be a direct seed operation working towards preserving the soil for future generations.
Why Shepherd's Grain?
Our family is excited to be producing crops grown in a sustainable cropping system for customers of Shepherd's Grain. This provides an environmentally nutritious food and a positive economic outcome for all parties involved. It is so rewarding to be able to meet and interrelate with the end users of our products. We feel this is an opportunity for farms that are willing to take the extra steps to invest in the future for the next generation.