Our Family of Farmers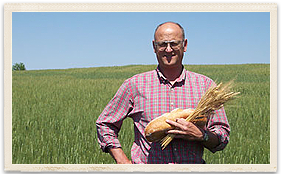 Fred & Vicki Fleming
in Reardan, WA
Generation
Homesteaded in 1888 by Fred Wagner. His daughter Rose Wagner married Guy D. Fleming and started farming 1928. Their son Jack Fleming married Viola Cline and started farming 1947. Their son Fred Fleming married Vicki Wollweber and started farming 1988.
Farm Future
I am looking for SG/CPP to create a sustainable market that I can market 30% to 40% of my crop. I also am looking to establish a foundation for the next generation so they can continue in a profitable manner.
Quotes
I am a recovering conventional farmer and my name is Fred.
Why the change to Sustainable Agriculture?
This was the right thing to do for the future of this farm. The defining moment was this year during a heavy rain event when my neighbor's ground was washing away and mine stayed in place. This neighbor is an excellent conservation farmer but his best effort could not duplicate a direct seed system for erosion control.
What have you learned since transitioning?
As I mature in the no-till I become more a convert in the story of developing a living health composite type soil environment to grow my crops. (There is truth in my statement "I am a recovering conventional farmer and my name is Fred.") This then allows me to market my crops in a socially responsible manner that is changing an eco-system. I love the feeling of walking into a bakery and knowing my wheat is being used.