Our Family of Farmers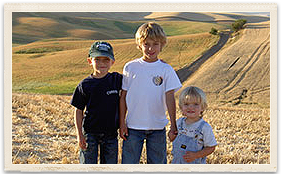 Eric and Malia Odberg
in Genesee, ID
Generation
Four generations. Est. in 1901
Farm History
I'm a fourth generation farmer and my greatest hope is to be able to hand down to the fifth generation. We have three sons and hope that one or all will want to farm. My great grandfather, Matthew Odberg started our farm three and a half miles south of Genesee, ID in 1901. My grandfather, Ellis Odberg, was more of a rancher than a farmer. In fact, he rented out the farm land until my Dad; Ellis Odberg Jr. came back from WWII and took over in 1948. He did both until he got out of the cattle business in 1965. I started farming in 1993 and my Dad was pretty open minded on new ideas and technologies in farming. I witnessed a couple of erosion events early in my farming career and knew there had to be a better way. I started direct seeding in 1998 which is protecting and building back our land for the next generation.
Tell me about the changes since moving to sustainable agriculture?
I absolutely love farming and more importantly direct seeding. I think of it as a crop production "hat trick," being able to produce a crop without any tillage and getting better yields most of the time than conventional farming. I just love being able to see the prior years residue while harvesting the current years crop. Farming is still hard and challenging. You don't necessarily work any less, but work on things differently when you direct seed. You really have to pay attention to the details and be on the cutting edge of technology in order to succeed. We just jumped at the chance to grow wheat for Sheppard's Grain. We've wanted to become a member since its inception. Who wouldn't want to get paid for their wheat by the way that they grow it?